Human Resources Training for New Managers/Supervisors
How well trained is your management team?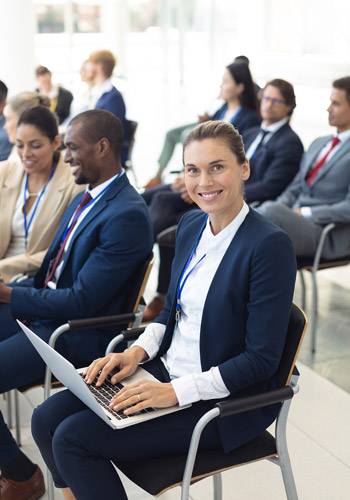 It's an important question. According to Gallup, 70 percent of your team's engagement is a direct result of the manager. Employee engagement is the key to a healthy company culture, higher productivity, and lower employee turnover rates. The old saying that "employees don't leave companies; they leave bad managers" is accurate.
We know that not all managers are created equal. It's very rare for someone to be born with innate management skills. However, many of these skills can be learned and improved with great training.
At eqHR, we've developed HR 101 specifically to train new management and help your current managers improve their skill set to increase their success in the role. The HR 101 training is designed to provide a well-rounded introduction to several key HR concepts that all successful managers must align with. The training ensures that all participants leave the class on a level playing field with updated knowledge on the latest employment law trends and best practices that will ensure their continued success.
We've heard all the stories that cite managers as one of the most common reasons that employees leave their organizations. Don't let your company suffer unnecessary turnover costs and risk costly litigation over managerial oversight or mistakes.
HR Training for New Business Owner | Major Topics Covered
Our HR 101 course is designed to cover all of the topics your managers need to succeed. From understanding employment labor law to coaching employees in best practices, your management team will leave the course fully prepared and confident in their management roles.
Here are some of the things that this HR training for new managers/supervisors covers:
Labor Law Fundamentals (Federal and State). Topics include protected classes, the Americans with Disabilities Act, Family Medical Leave Act, Fair Labor Standards Act, paid family leave, pregnancy disability leave, sick leave benefits, and training requirements for harassment prevention.
The Hiring Process. Topics include the interview process, selecting employees, best practices with applications and resumes, and the legality of interview questions.
Coaching Best Practices and Goal Setting. Topics covered include managing versus coaching, SMART goals, and setting expectations.
Administration. Topics include best practices for documentation, disciplinary actions, and performance improvement plans.
Separation Employment. Topics include best practices in the termination process and common pitfalls that employers suffer.
Who Should Attend HR 101?
The HR 101 course is perfect for all company leaders, managers, supervisors, and team leads regardless of experience level. Legal requirements change regularly. A thorough understanding of the fundamentals of labor law is key to navigating the workplace as a manager. It's important that even seasoned managers stay up to date on new requirements.
There are many aspects to the role of management. Virtually all leadership can get some benefit from this course if only to update knowledge and brush up on the skills that they are not as confident in using. New managers reap a well-rounded education that helps them identify the areas in which they need to improve and learn new techniques specific to leadership. Seasoned professionals often find this coursework beneficial in improving areas in which they lack knowledge. Most managers will have strong points and weak points. Better training helps make their strong points flawless and their weak points far above average.
Why Choose eqHR?
Although the training comes equipped with challenging scenarios that are perfect for any industry, we customize the training scenarios to tackle your most challenging concerns. At eqHR, we know that each industry is different. Not every employer or employee is the same. You have your own company culture that is unique to you. We don't want to eradicate what works. We help you build on your strengths with improved management techniques.
At eqHR, we assess your individual business needs and develop a more customized solution. If your company is challenged with high turnover rates, we assess why that is and tailor your training to align with those goals. If your management leadership shows high technical and administrative skills but lacks the soft skills necessary to develop solid relations with staff, we work on those interpersonal skills.
All students get full training to increase proficiency overall, but they also get pinpointed attention in the areas where they need improvements.
How Is HR 101 Training Delivered?
At eqHR, we recommend training in small group settings. This can be done in person or via Zoom webinar. The training is interactive and is designed to engage all participants. Attendance and engagement are actively monitored to ensure that all participants stay involved with the coursework.
We have found that our scenarios are highly engaging and that participants are enthusiastic in their engagement with each other and the coursework.
The total length of the training is two hours. However, it's a lot of information for that time span, so we recommend breaking the on-line training into separate one-hour sessions. Live in-person attendees can accomplish training in a single two-hour block.
The training is provided by industry-leading, certified HR experts with experience in a variety of industries. Our trainers are skilled at ensuring all attendees walk out of the sessions ready to tackle any challenges in their path.
Contact us today if you're interested in more information about HR 101 for your management staff.