Customize for Your Company
Federal & CA Compliant
Attorney Reviewed
Is Your Company Handbook Important?
As businesses expand and add additional employees, the ability to effectively communicate the company's policies and procedures often requires delegation to new supervisors.
Without an employee manual, your supervisors may provide the wrong information, based on memory, about the policies and procedures governing your mandatory employee leaves, sexual harassment reporting, termination requirements, PTO accruals, benefits and the many other unique company policies & procedures.
Did you know that both California and Federal employment regulations require additional mandatory polices based on the number of employees and your unintentionally failure to comply with the required regulations is not a defense?
Both employment attorneys and human recourse professionals strongly recommend the best way to protect your business is by maintaining an up-to-date company employee handbook that details both the required regulations and the company unique policies & procedures.
Personalized Process • Customized • Compliant • Attorney Reviewed
Unlike employee handbook templates or do-it-yourself kits that leave you with a lot of questions (and possible vulnerabilities), we work directly with you through a personalized process. Through live conversations, we draw out the right information from you about your business. This helps ensure every aspect of your handbook is accurate, clear, customized and compliant with both federal and California law.
Promote & Communicate? Consider including a welcome message from your CEO to all new employees; your Company's Mission Statement and perhaps an Overview of the Long Term Business Objectives & Goals.
A leading California Labor Law Firm reviews our employment policies & procedures materials annually. This ensures every new handbook is based on current California and Federal employment laws and regulations, case decisions and labor board rulings.
Our Custom Employee Handbook Process
We provide your staff personal guidance, based on a review of your current handbook and/or employment policies. Unlike a list of questions found in templates where your staff may guess a "Yes or No", we clearly explain the required and optional handbook content
Unlike a template, you will review each draft as we continue to collaborate until you are satisfied!
Your custom handbook contains the required policies and procedure content, including mandatory regulatory content based the number of employees (1 to19, 20-50 and 50+) and their location.
Upon delivery of the completed manual, we offer an optional on-site presentation to your employees and make ourselves available to answer their questions before they begin using the handbook.
Required & Recommended Policies and Procedures. The required employment policies and references are determined by California and Federal Employment Regulations, along with current employment case law. Handbooks require different regulatory content based on the number of employees (1 to19, between 20-50 and 50+).
Affordable & Competitively Pricing (criteria)
The size of your business (number of employees)
Reviewing an existing handbook or creating your first handbook
Drafting new employment policies / procedures
Presenting (roll out) handbook to your employees?
Call Today & Receive a Free Employee Handbook Quote
---
Custom Employment Policies and Procedures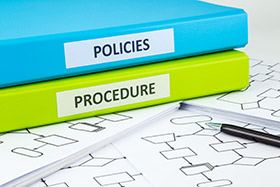 Now is the perfect time to provide a comprehensive evaluation of your unique existing policies & procedures and make recommendations for improvement / compliance as we create your handbook.
Many employment practices (policies) are unique to each business. For example, there is not a one size fits all for hiring, disciplinary, termination and PTO polices. Call today to discuss your employment policy needs. We offer substantial discounts when new policies are created with your employee handbook
Typical Employment Polices & Procedures
At Will EmploymentSexual HarassmentStandards of PerformanceCode of Business EthicsElectronic CommunicationConfidential InformationPersonal PropertyCompany EquipmentDiscriminationOpen Door PolicyPerformance ReviewPayrollPTO / Vacation / Sick TimeVotingJury DutyPregnancy LeaveBenefitsWork InjuryUnemploymentCOBRACA Family Rights ActFamily & Medical Leave ActMilitary LeaveBereavement Leave