Employee Handbooks | Why every business should have an employee handbook?
Posted on July 9, 2021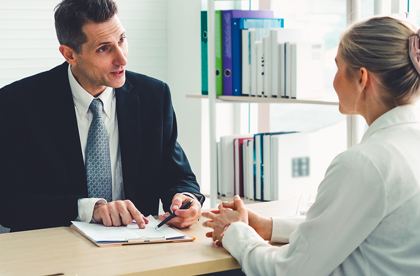 Why every business should have an employee handbook?
An employee handbook is one of the most important documents your company can create. It does more than just help your HR department stay informed on processes and policies. It also acts as one of the best living documents to showcase your company's mission and culture.
If you don't have an employee handbook, it's an essential tool that you should invest some time in creating. If you do have an employee handbook, you need to make sure that you evaluate it and revise it when needed. We often recommend revising the employee handbook (when necessary) every year.
What are the benefits of an employee handbook?
There are a lot of benefits to creating an employee handbook that go beyond simply protecting yourself legally and making sure your organization is in compliance with all employment laws (although those are two very good reasons).
Here's a list of some of the main reasons we suggest every business with employees creates and updates their employee handbook:
Compliance. This is a key reason to create an employee handbook. The employee handbook should clearly showcase how your company is in compliance with state and federal laws. Because you need to update your handbook to reflect new changes to laws, it will also serve as a good way to help your HR department head up initiatives to maintain compliance. At the same time, it educates your employees on what the laws are, which is as valuable for them as it is for the company.
Protects You Legally. In any case where a former employee might file a complaint or seek damages, the employee handbook is an important document for your legal team. It showcases what company policy really is and helps to protect the company in a case where an employee might take it upon themselves to act outside corporate policy. If all the policies reflecting infractions of state and federal employment laws are outlined, and the employee signed the handbook, it shows that they were fully knowledgeable in the course of action to file a complaint or rectify matters through your company. It also gives the company clear processes to handle any legitimate complaints to maintain compliance and protect the best interests of your staff.
Aids in New Hire Onboarding. Your employee handbook gives all employees access to information about your company mission, company culture, brand, and what your company expects of employees in and out of the office. You might list policies on social media use, dress codes, and any number of work-related policies. This gives new employees a resource to check company policy when they have questions.
Explains Benefits. Your handbook should include information on employee benefits, as well as directions for employees to make changes. Some things you might include are policies on PTO, accrued vacation time, and policies for calling in.
Defines Your Company Policies and Procedures. This is a good way to help all staff learn your policies, and it's an aid to your managers and HR personnel who are faced with policy-related decisions. For instance, management might not remember every policy, such as which infractions get write-ups or warnings. Having it all written in the employee handbook makes it easier to follow policy fairly and uniformly.
How Important Is an Employee Handbook for Small Businesses
Small businesses often think that they don't need such a document because they don't have a large number of employees. If you have any employees, an employee handbook can help you organize the way you manage and grow your staff and help you stay compliant.
Your employee handbook sets the tone for your employees. Employees will understand the mission of the company and the policies you have in place. Making the handbook easily available to all of your employees provide the source that they need to answer questions about work-life and rules in your company.
We recommend creating employee handbooks for companies of all sizes. Once you have a employee handbook that complies with state and federal regulations, it's relatively easy to update it yearly to reflect any changes in laws or within the company.
Click here for our Custom Handbook information.